Watch Video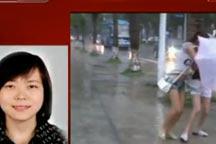 Play Video
Tropical storm Chanthu approaches S. China
The southern Chinese provinces of Guangdong and Hainan are bracing themselves, ahead of Typhoon Chanthu's expected landfall Thursday. Guangdong meteorological authorities, have launched the highest level of disaster response. Full Story>>
Reporter: Impact of tropical storm Chanthu
For more on Typhoon Chanthu, we're joined on the phone by our reporter Qu Shang, who's in Maoming, a coastal city in southern China's Guangdong province.
1. We know you have arrived at a harbor in Maoming, can you tell us about the weather around you?
2. What impact is the tropical storm and bad weather likely to have on Guangdong people's lives?
Crossover to weather bureau: Typhoon Chanthu to hit southern China
For more information on the tropical storm Typhoon Chanthu, we're joined by Halla Mohieddeen, from the China Meteorological Bureau.Full Story>>
Editor:Zhang Ning |Source: CNTV