Watch Video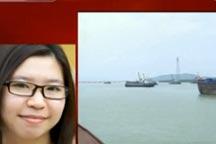 Play Video
Rising water level at Poyang Lake
Recent heavy rain has triggered the water level to surge at Poyang Lake in east China's Jiangxi Province, causing disruptions to shipping traffic. Many vessels have struggled to pass under the lake's two main bridges at the Poyang Lake highway and Tong Jiu railway. Zhang Miao reports.

The Maritime Safety Administration is closely monitoring vessels and weather conditions at China's largest freshwater lake. The lake's average depth of eight meters has risen sharply following recent heavy rain, causing problems for ships wider than 90 meters and taller than 13 meters.
Water has been pumped into ships to ease the rising level and ensure they can safely pass under the Poyang Highway Lake and Tong Jiu railway bridges.
A maritime office official of Hukou County, Jiangxi province, said, "The distance between the Tong Jiu railway bridge and the water's surface is 12.5 meters. Considering the wave's height, ships must be kept lower than 12.5 meters."
Lin Qiang, head of maritime office, Hukou County, Jiangxi Province,said, "In order to keep the traffic flowing smoothly, we have adopted two methods. Firstly, we are constantly monitoring the height between the bridge and the lake. Secondly, we are stepping up supervision on the movement of large cargo ships."
Supervision from maritime authorities has been crucial since the flood season began last month. It has played a pivotal role in ensuring the safety of marine traffic and minimizing accidents in the Poyang Lake."

Latest situation around Poyang Lake, Jiangxi province
For more details on Poyang Lake, we're joined on the phone by our reporter Zhang Miao, who's in Jiujiang in Jiangxi province.
Can you update us on the latest situation around Poyang Lake?
Editor:Zhang Ning |Source: CNTV