Watch Video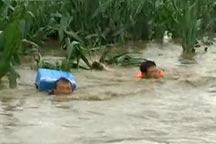 Play Video
In Tieling County in northeast China's Liaoning Province, a villager traveling on his motorcycle slid off the road, and was almost washed away by the swift current of flood waters.
A few people happened to be at the scene, and managed to save him. One of our reporters was passing by the village during the incident. He also took part in the rescue work, and recorded the whole process.
Heavy rain that began on Tuesday in Liaoning, has caused a 20-meter crack on a dike along the Shengli River.
Flood waters broke bridges and inundated a village near the dike. Local crops were also ruined by the water. While 3-thousand villagers have been evacuated from their homes.
Meanwhile, a villager who was forced to drive on flooded roads in an attempt to escape ran into serious danger as he was almost taken away by the current.
Another villager showed up, trying to help the motorcyclist out of the water. But as the water was too deep and moving too fast, the rescuer himself became trapped.
Luckily both of them managed to hold onto corn plants that were growing along the side. But the situation was still critical.
Local residents, as well as the reporter, took out their fishing nets and ropes, and tied them all together.
This last move was successful as the group including the reporter pulled the men to safety, one by one.
A trapped villager said, "I was panicking. I tried to stand up, but the water was too deep. I couldn't get out by myself."
A volunteer rescuer said, "It's too dangerous to travel in the flood on a bike. I'm going to stay here a bit longer, and tell others passing by to watch out."
The hero who had just saved two men was too shy. He walked away without leaving his name to the reporter.
Editor:Zhang Ning |Source: CNTV