Watch Video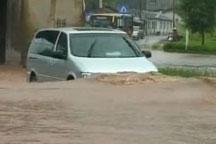 Play Video
Tropical storm Chanthu has been pounding Southern China, bringing with it extremely heavy rains.
In Qinzhou city in Guangxi Zhuang Autonomous Region, roads have been submerged, causing great inconvenience to local residents.
It has prompted the local meteorological bureau to issue a red storm alert. Andrew Dupuis tells us how local residents are coping with the fierce weather.
This is Qinzhou City in southern China's Guangxi Zhuang Autonomous Region.
On Friday, Chanthu brought torrential rain to the city, leading to winds of up to 70 kilometers per hour.
Local authorities asked residents to stay indoors. For those who have to go out, travelling by car is definitely not a good idea.
Water levels on some roads are so high that cars were stranded there.
High water levels have even forced large buses off the roads. Passengers have had to get off, and walk to their destinations.
Motorist, Qinzhou City, said, "The bus will break down if it gets stuck in water."
This is a mechanic's shop surrounded by a massive amount of water.
It has been forced to close as a result of the unstoppable rain. Workers have come out to help drain water from the road.
Meanwhile, traffic police are working to keep order on the roads and reduce the possibility of traffic jams.
Reports say typhoon Chanthu will leave Guangxi soon, moving northwest.
Editor:Zhang Pengfei |Source: CNTV.CN