Watch Video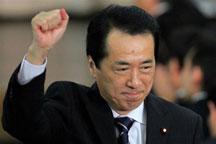 Play Video
Japanese Prime Minister Naoto Kan is battling to stay in touch with voters, after an opinion poll showed his support rate has tumbled since parliamentary elections in June.
Analysts say his push to raise the consumption tax has triggered the fall in support.
This month's opinion poll conducted by Japan's Jiji news agency shows support for Naota Kan has plunged to 31.8 percent, almost 10 percent lower compared with last month. Meanwhile, support for the opposition Liberal Democratic Party has risen more than 22 percent.
Among those surveyed who support the prime minister, 12.5 percent said there are no formidable candidates from the opposition, while 8 percent said Kan is a reliable leader.
Respondents who support the opposition noted they have low expectations for Kan, with 16 percent saying his policies will not work.
The decline in public support for Kan's government appears to stem from his push earlier this month to raise the consumption tax. Kan said he would consider 10 percent as one of the targets for raising the sales tax rate from the current 5 percent.
Meanwhile, the first lady of Japan, Nobuko Kan, has outlined her husband's efforts to spearhead Japan's economic recovery in a newly published book.
She also hinted her husband's term in office could be possibly shorter than expected.
Related stories
Editor:Zhang Pengfei |Source: CNTV.CN