Watch Video
Play Video
Thousands of people have been forced to flee their homes after the Luofu River in northwest China burst its banks, but no casualties have been reported.
Local authorities say water began pouring through a 50-meter breach early Saturday morning at Huayin City in Shaanxi Province. They say the gap has widened to 80 meters. Stones and bags have arrived at the site where about 16 square kilometers of land is flooded. More than 500 people are battling to strengthen the remaining river banks and block the breach. Nearly 10,000 people were evacuated before the breach.
Torrential rains pounded Huayin City for nearly 24 hours from Friday morning. Heavy rains in Shaanxi province since July 14th have left 100 people dead and nearly 150 missing. They've resulted in direct economic losses of nearly 5 and a half billion yuan.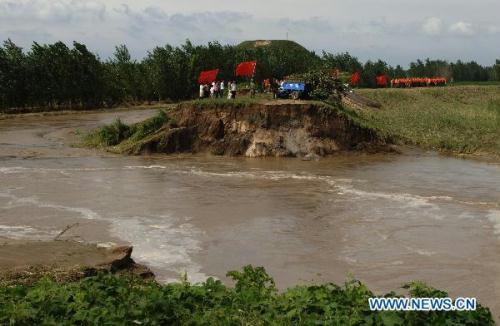 Photo taken on July 24, 2010 shows the destroyed section of the riverbank of Luofu
River in Huayin City, northwest China's Shaanxi Province. Heavy rainfall from July
23 to July 24 caused a 50-meter-long section of Luofu River bank to burst on
Saturday. So far no casualty has been reported.(Xinhua/Liu Xiao)