Watch Video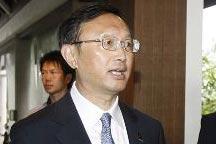 Play Video
China's Foreign Minister Yang Jiechi has warned countries not to "internationalize" the territorial dispute over islands in the South China Sea between China and its neighbors. He made the remarks after US Secretary of State Hillary Clinton spoke at the ASEAN Regional Forum in Vietnam, where she said resolving disputes over the South China Sea was "pivotal" to regional stability and suggested an international mechanism to solve the issue.
Foreign Minister Yang Jiechi expounded China's position and denounced the plan by some countries to internationalize the South China Sea issue. He says "the South China Sea is currently a peaceful area with navigational freedom. And in his discussions with both ASEAN colleagues and others, he said all agreed hat there is no threat to regional peace and stability.
Yang admitted that "there are territorial and maritime rights disputes" between China and some neighbors. But he emphasized that "those disputes shouldn't be viewed as ones between China and ASEAN as a whole just because the countries involved are ASEAN members."
Yang Jiechi said according to the Declaration of the Conduct of Parties in the South China Sea signed by China and ASEAN member countries, it is to "exercise restraint, and not to make it an international issue or multilateral issue," which will only make the matters worse and the resolution more difficult. He said "channels of discussion are there, and they are open and smooth."
The Foreign Minister alleged it is not China but some other country that is "coercing" regional countries to take sides on the issue. He said Asian countries can solve their own problems without interference by outside nations.
Yang added that ASEAN is also not an appropriate forum to resolve the issue.
Backgrounder: Introduction to South China Sea
The South China Sea is part of the Pacific Ocean. It extends from Singapore and Malacca to the Strait of Taiwan, covering around 35 million square kilometers. Full Story>>
Editor:Zhang Ning |Source: CNTV