Watch Video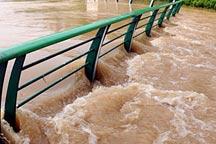 Play Video
Drenched riverside towns in central and southern China have prepared for even more flooding. Water levels in the country's huge rivers have surged and rainstorms continue.
In central Hubei Province, the local government raised the flood alert to the second highest level. The water flow rate into the Danjiangkou Reservoir from the Hanjiang River, the second largest branch of the Yangtze, peaked at its highest in almost three decades. The reservoir's water level is expected to rise to at least 155 meters Tuesday, about 6 meters above the danger level.
Meanwhile, water flow rates at the Three Gorges Dam, at the mainstream of the upper Yangtze, rose Monday after a three-day lull. The flow rate hit over 40 thousand cubic meters a second, and is expected to continue to rise until it peaks Tuesday.
Related stories
Editor:Zhang Ning |Source: CNTV