Watch Video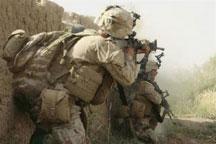 Play Video
US soldiers and Afghan National Army troops in a valley in Kandahar Province have come under militant fire. An Associated Press photographer embedded with the US military captured it on film.
US and Afghan troops respond to an attack with heavy fire power.
First Sergeant George Robertson describes their target: a lone Taliban gunman spotted running into a building about 200 meters from their base.
First Sergeant George Robertson, US Army, said, "He went up into the second floor, there's a front door, so we just lost some rounds down there, down range, so hopefully we hit him. We haven't heard anything from that side of the village yet, but he's moving north."
The Afghan Interior Ministry says troops also killed four militants who were planting a roadside bomb in the Arghandab district Tuesday.
Some 150 thousand foreign troops are engaged in an increasingly bloody war in Afghanistan.
On Sunday, the NATO-led International Security Assistance Force said they found the remains of one of two US sailors who disappeared last week in eastern Afghanistan. The search is continuing for the second man.
Related stories
Editor:Zhang Pengfei |Source: CNTV.CN