Watch Video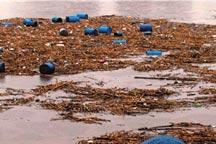 Play Video
Emergency workers have discovered that more than 7,000 buckets containing chemicals have been washed into the Songhua River in Northeast China's Jilin Province. That's much more than Wednesday's initial estimate.
The buckets were swept into the river from a plant in Jilin City in rain-triggered floods. But authorities say among the 7,000, only 3,000 buckets contain explosive chemicals, about 170 kilograms each, and the other 4,000 buckets are actually empty.
Emergency workers have set up blocking belts and recovered about 400 of them. Several monitoring locations have also been established to check water quality in the river. Measures will be taken immediately if any contamination is discovered.
Editor:Zhang Ning |Source: CNTV