Watch Video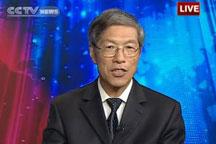 Play Video
To further discuss the debut of the Chinese Defense Ministry's new spokesman and the country's defense policies, we are joined by our current affairs commentator Professor Tao Wenzhao.
Q1. Professor Tao, what did you take from Senior Colonel Geng Yansheng's debut in front of domestic and international media?
Q2. Over the past few weeks China conducted a series of military exercises in the South China Sea and in waters off China's east coast. And Senior Colonel Geng Yansheng says people should not read too much into the drills, as they were normal and no different from the kind of exercises carried out by other countries in the world. What's your view on this?
Ok, thanks for that Professor Tao. We'll come back to you again shortly.
Editor:Zhang Pengfei |Source: CNTV.CN