Watch Video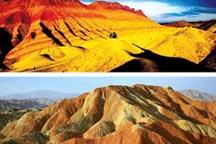 Play Video
The natural beauty and scientific value of Danxia landforms have drawn global attention for a long time. Let's take a closer look at one of nature's fabulous and unique works.
Six provinces in China feature Danxia landforms. Among the best known mountains are Langshan and Wanfo in Hunan Province, Longhu and Guifeng in Jiangxi Province, Fangyan and Jianglang in Zhejiang Province, Taining in Fujian Province, Danxia in Guangdong Province, and Chishui in Guizhou Province.
Although Danxia formations are widely distributed throughout the world, China has the largest, as well as the most typical and diverse Danxia Landforms.
They consist of red sedimentary rock characterized by steep cliffs, peak forests, mesas and so on.
Upon seeing them for the first time, people are deeply impressed by the narrow valleys and rock formations that allow their imaginations to fly.
Rivers add to the beauty of the scenery. Travelling by boat, visitors enjoy waterscapes created by the reflection of hills and mountains that demonstrate nature's harmony.
The successful World Heritage List designation is the result of years of hard work by local governments to restore and upgrade Danxia scenic sites.
With the popularity of the Danxia landforms expected to increase, Guangdong Province will work to boost international tourism by adding Hong Kong and Macao to a new tour route. Visitors will have a chance to enjoy the beautiful scenery of Danxia landforms as well as seeing those modern cities.
Related:
China's Properties inscribed on the World Heritage List>>
Cultural

Ancient Building Complex in the Wudang Mountains (1994)

Ancient City of Ping Yao (1997)

Ancient Villages in Southern Anhui – Xidi and Hongcun (2000)

Capital Cities and Tombs of the Ancient Koguryo Kingdom (2004)

Classical Gardens of Suzhou (1997) ...More>>

Natural

China Danxia (2010)

Huanglong Scenic and Historic Interest Area (1992)

Jiuzhaigou Valley Scenic and Historic Interest Area (1992)

Mount Sanqingshan National Park (2008) ...More>>

Mixed

Mount Emei Scenic Area, including Leshan Giant Buddha Scenic Area (1996)

Mount Huangshan (1990)

Mount Taishan (1987)

Mount Wuyi (1999) ...More>>