Watch Video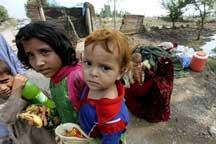 Play Video
Relief efforts in Pakistan's flood-ravaged northwest have picked up pace. But both the government and the people are still facing tough challenges. The disaster is far from over.
As flood waters start to recede in parts of Northwest Pakistan, survivors are returning to devastated villages. They wade through the water to salvage chairs, plates and other possessions.
This man in the small village of Shapra says they've lost everything, but are hoping to salvage some sacks of wet wheat.
Marjan Khan, Shpra Villager, said, "We have nothing, we are just depending on the mercy of God."
Elsewhere in Charsada, some locals were lucky to reach a shelter inside a school building.
At the District Hospital, doctors set up a special flood ward. Many of the patients are children.
Dr. Hamid Khattak, Charsada District Hospital, said, "The water has become contaminated and there are chances of it spreading various disease. People are already complaining about scabies."
The Pakistani army has sent helicopters, boats and infrastructure needed for relief work, to deliver food, medicine and tents.
Major-General Javed Iqbal, Pakistani Army, said, "In the last three days, we have scrambled everything we had. Army chipped in, in a big way in terms of providing the aviation support. Lots of other support is in the pipeline in terms of efforts, in terms of rations etc. Provincial government has also responded in a big way."
On Saturday, the United Nations and the US announced that they would provide Pakistan 10 million US dollars each in emergency assistance.
China has expressed deep condolences to Pakistan for the victims killed by the floods. It also promised aid worth 10 million yuan.
Editor:Zhang Pengfei |Source: CNTV.CN