Watch Video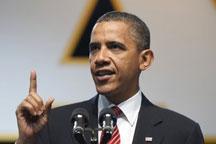 Play Video
US President Barack Obama declared on Monday that the Iraq war is nearing an end "as promised and on schedule."
The president highlighted the success in following through on a promise to pull out US forces, though it comes amid persistent instability and uncertainty in Iraq.
In a speech to the national convention of Disabled American Veterans, Obama cited progress towards meeting his deadline of withdrawing all US combat troops from Iraq by the end of this month.
Barack Obama, US President, said, "Already we have closed or turned over to Iraq hundreds of bases. We're moving out millions of pieces of equipment in one of the largest logistics operations that we've seen in decades. By the end of this month, we'll have brought more than 90,000 of our troops home from Iraq since I took office. More than 90,000 have come home."
A transitional force of 50-thousand troops will remain to train Iraqi security forces, conduct counter-terrorism operations and provide security for ongoing US civilian efforts.
Under an agreement negotiated in 2008 with the Iraqis, all American troops are to be gone from Iraq by the end of next year.
With pivotal November congressional elections approaching, the White House wants to highlight the progress as a success story.
But the rhetoric comes amid deep concerns about Iraq's stability.
On Monday, two bombings and a drive-by shooting killed eight people there.
Barack Obama, US President, said, "And the hard truth is we have not seen the end of American sacrifice in Iraq, but make no mistake, our commitment in Iraq is changing, from a military effort led by our troops to a civilian effort led by our diplomats."
Figures released by Iraqi authorities over the weekend showed July to be the deadliest month for Iraqis in more than two years.
At the same time Obama has drawn down forces in Iraq, he has increased the US commitment in Afghanistan, ordering a surge of 30-thousand additional troops for the 9-year mission there.
Editor:Zhang Pengfei |Source: CNTV.CN