Watch Video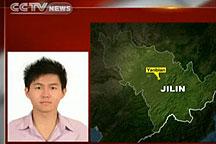 Play Video
Updates: Floods leave 122 dead or missing in Jilin
Floods caused by torrential rains continue to plague Northeast China's Jilin Province. 122 people are dead or missing. Full Story>>
The Yanbian Korean Autonomous Prefecture is the latest victim of the downpours in Jilin. Our reporter Wang Guan is there now, and he joins us on the phone. Hello, Wang Guan.
Latest situation in Yanbian
1. What's the latest on the situation in Yanbian?
Rescue work progress
2. How is rescue and rebuilding work going?
Editor:Zhang Jingya |Source: