Watch Video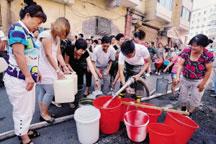 Play Video
Flooding triggered by heavy rainstorm in Northeast China's Jilin province has cut water supplies for more than 300 thousand people. The government is making every effort to restore the supplies.
Residents in Tonghua city have been without tap water for two days.
Four pipelines were damaged Sunday, cutting supplies to the whole city.
More than 300 workers have been working around the clock to lay new pipes. The 350-meter line is expected to go into use within five days.
Residents have been largely relying on bottled water.
Authorities ordered 25 fire trucks to deliver water for other household use to residential communities from 5 a.m. to 8 p.m. every day.
About 17-hundred tons of water have been delivered.
People are also helping each other out. An 83-year-old grandma has a well to water her plants. Now it's the only water source in this community. She's invited all the neighbors to use it.
A Tonghua citizen said, "I don't charge for the water, it's all free. You can come and line up for the water."
It's expected that another flood peak will arrive in Tonghua in the coming days. The city is bracing for its next challenge.
Editor:Zhang Jingya |Source: CNTV.cn