Watch Video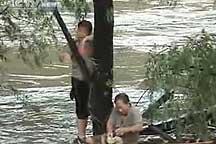 Play Video
After 9 hours marooned in flood waters, a father and his son have been rescued in Yongji County in Jilin. Flash floods had submerged an entire neighborhood. With the support of neighbors and sheer will power, father and son held on until rescue troops could arrive.
Yang Shuhuai is the organizer of the community's rescue operation.
He was guiding residents in lower stories to upper floors when he saw two people drifting toward him.
Yang Shuhuai, Yongji resident, said, "I live on the third floor. It was 9 in the morning, and I was calling downstairs neighbors to move to my home. Then I saw two people stranded in water. They were clutching a tree and couldn't hold on any more."
The flow was rapid and water had risen to the second floor. The locals couldn't reach the two. To make matters worse, the downpour continued.
Liu Li, resident in Yongji, said, "We were shouting at them, telling them to hold on. We kept yelling, nearly losing our voices."
After four hours of repeated attempts, the locals managed to pass food, water and raincoats.
Then a frame floated to them, giving them a chance to rest. But a huge current came an hour later, sending them back to the tree.
Yang said, "The boy was really exhausted. We kept encouraging and comforting them."
Everyone's efforts finally paid off when a rescue boat arrived at six p.m.
The nine-hour ordeal was over. Everyone involved had reason for joy and relief, and more than a little pride.
Related stories
Editor:Zhang Jingya |Source: CNTV.cn