Watch Video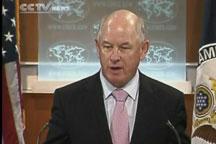 Play Video
The US has also called for maximum restraint. It says it's been in touch with both governments in Washington, and in Israel and Lebanon.
A State Department spokesman says there might be a formal meeting Wednesday in the region, supervised by the UN.
P.J. Crowley, US State Department Spokesman, said, "The last thing we want to see is this incident expanded to something more significant. And that's why, you know, we and others have been in contact throughout the day and are trying to make sure that it goes no further."
Editor:Zhang Pengfei |Source: CNTV.CN