Watch Video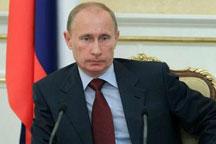 Play Video
Russian Prime Minister Vladimir Putin is putting a temporary ban on grain exports to keep inflation in check. He is also pledging billions of roubles to help struggling farmers.
Vladimir Putin, Russian Prime Minister, said, "In connection with abnormally high temperatures and drought, I think it is advisable to introduce a temporary ban on the export from Russia of grain and other agriculture products made from grain. Yes, we have enough reserves -- 9.5 million tonnes -- but we must not allow a rise of food prices in Russia, retain livestock counts and form reserves for next year."
Russia's recent ban is the first time in 11 years. The decision sent already red-hot benchmark US wheat prices to a 23-month high. The edicts takes effect next Thursday and runs till December the 31st.
The Russian government plans to ask for a similar ban from customs union partners Belarus and Kazakhstan. With Russia at the mercy of its worst drought in hisotory, Putin pledged 10 billion roubles, in subsidies to the agricultural sector.
Related stories
Editor:Zhang Pengfei |Source: CNTV.CN