Watch Video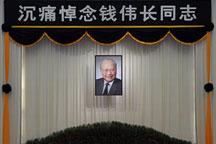 Play Video
The farewell ceremony has been held in Shanghai for renowned scientist, and former president of Shanghai University, Qian Weichang.
Thousands of students, teachers and people from all walks of lives are paying their final tribute to the late science giant.
The farewell ceremony for Qian Weichang began at the Shanghai Longhua Funeral Parlor on Saturday morning.
Last Friday's obituary notice has been met with nationwide grief. Family members, 800 teachers and students from Shanghai University, and people from across the country arrived well ahead of time.
The simple ceremony was full of emotion and respect.
And on the campus of Shanghai University where Qian Weichang had taught and lived, students pay their final tributes.
Haiqing, Shanghai University, said, "This was shot on Mr. Qian's 95th birthday. I gave him a present that I made by myself. Now he's left us, but his contribution won't be forgotten, and his remarks will always be in our minds."
Qian Weichang is widely acknowledged as one of the founders of modern mechanics in China.
He was also a specialist in applied mathematics, physics, engineering science and Chinese information processing.
Qian Weichang was a distinguished educator and social activist, a great leader of the China Democratic League, and a close friend of the Chinese Communist Party of China.