Watch Video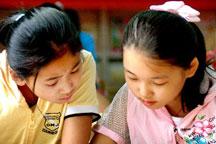 Play Video
The death of renowned Chinese scientist Qian Weichang late last month has been met with nationwide grief. The scholar's passing also re-ignited debate over whether China's current education system can foster similar academic masters.
Qian Weichang was one of modern China's finest pioneers in mechanics and applied mathematics.
He was also one of the three famous "Qians" in the country's science and technology field, alongside Qian Xuesen - the father of China's space program, and Qian Sanqiang - a nuclear physicist who oversaw the development of China's nuclear program.
Concern over China's departing science masters began late last year when Qian Xuesen died. Debate over the effectiveness of the current education and science research system has heated up following the death of Qian Weichang, the last of the "three Qians".
But all sides agree there haven't been any heavyweights in both the fields of science and art.
Yuan Zhengguo, Director of China Nat's Inst. for Edu. Res., said, "Over the last few decades, we have emphasized the popularity of compulsory education. We spent just 20 years achieving a goal that some western countries took nearly a century to achieve. This has been a big success. Nevertheless, we must be aware that improving the quality of our education remains a big issue."
A recent education evaluation of 21 countries and regions sparked public concern. Despite China's youths topping a list in calculating abilities, they ranked last in imagination and fifth from the bottom for creativity.
In a survey of Chinese primary and middle school students last year, only 4.7 percent of respondents said they were imaginative and curious about the world.
Statistics show Chinese students obtain about 2-thousand doctorates annually in the US, the largest number of such degrees among non-Americans.
However, no Chinese names appear on a list of 20 inventions of the 20th century that improved people's lives.
Yuan Zhengguo, Director of China Nat's Inst. for Edu. Res., said, "We have already achieved the goal to build a big country of human resources. The next goal, which is more challenging, is to convert it into a strong country of human resources. Comprehensive evaluation will be introduced into the current examination system. We will try to make our education full of vigor."
On the eve of Qian Weichang's death, the Ministry of Education launched the National Outline for Medium and Long Term Education Reform and Development. It provides the blueprint for education reform and development over the next decade and aims to take big step forward in the country's education reform."
Editor:Zhang Pengfei |Source: CNTV.CN