Watch Video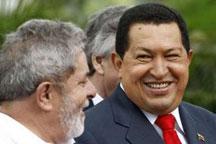 Play Video
Colombian President-elect Juan Manuel Santos will be sworn in on Saturday, taking over from outgoing President Alvaro Uribe. The change in leadership signals a possible easing of tensions with neighboring Venezuela.
Leaders from across Latin America and as far away as Georgia made their way to Bogota to attend Saturday's inauguration of Colombian President-elect Juan Manuel Santos.
Though not expected at the ceremony, Venezuelan President Hugo Chavez has made clear he hopes for better relations under Santos.
Chavez severed ties with Colombia last month and announced he was sending troops to the border. It came after outgoing President Uribe claimed Venezuela tolerated rebel camps within its territory.
In order to negotiate an end to the dispute, Brazilian President Lula da Silva and former Argentine President Nestor Kirchner were visiting Chavez.
After the meeting, Chavez said the Brazilian leader would travel to Bogota with a mission.
Hugo Chavez, Venezuelan President, said, "He is heading to Bogota for the inauguration of President Santos and he takes with him a mission of which we have spoken about a lot today with Secretary General Nestor Kirchner who is going to Bogota."
Chavez declined to provide more details, but said he was very optimistic, adding that his foreign minister would likely attend the inauguration of Colombia's new president.
As for Santos, a market-friendly technocrat from an elite Bogota family, he has vowed to normalize relations with Venezuela, amid increasing pressures from other regional leaders to resolve the disputes peacefully.
Related stories
Editor:Zhang Pengfei |Source: CNTV.CN