Watch Video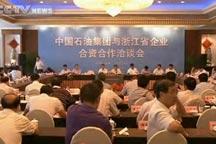 Play Video
Following up on guidelines issued earlier this year by the State Council, China National Petroleum Corporation, CNPC, sponsored a forum in Zhejiang province to push "co-exploitation" with private companies.
In May, China moved to encourage and guide greater development of private investment in the country's booming industry sector. Mike Paterson has the story.
China's largest oil and gas producer and supplier is offering 119 projects including the construction of oil and gas pipelines and natural resource exploration abroad. The total investment being offered reached 600 billion yuan.
The state-run company hopes to attract more than 211 billion yuan of domestic private capital.
Over 100 private entrepreneurs from Zhejiang attended the summit.
Zong Qinghou, chairman of Hangzhou Wahaha Group, said, "Our advantage is the large distribution net. So we seek cooperation in oil and gas exploration. Previously, we were not allowed to do so. This afternoon we'll promote the idea to see if we can get the chance."
Private companies generate the bulk of China's new jobs and wealth.
The measures to promote private investment reflect the government's determination to break down barriers now facing private capital.
However, many of the 119 projects being offered to investors require large investments and offer high risks.
Li Xinhua, deputy General Manager of CNPC, said,"I think there will be a win-win situation in attracting private capital. If we can enlarge the business, it's reasonable to share the benefits."
CNPC says it will expand cooperation with more private enterprises in the country.
Editor:Zhang Ning |Source: CNTV