Watch Video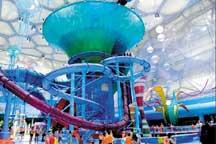 Play Video
The National Aquatic Center, better known as the Water Cube, has re-opened to the public after 10 months of refurbishment. It coincides with the second anniversary of the Beijing Olympics. One of the largest water amusement parks has now been built to attract visitors.
Once the memorable Olympic party is over the question haunting many host countries is how to re-use the venues.
Sydney's Olympic Park, the centerpiece of the 2000 Games, had no re-development plan until five years afterwards when officials turned it over to commercial use.
Then Athens hosted the 2004 Olympics, but after the closing ceremony, 21 out of its 22 venues were left abandoned for many years.
Beijing's municipal government doesn't want to go down the same path.
Zhao Zhixiong, manager of National Aquatics Center Corporation, said, "Last year, visitors came because the Olympic fever is not totally gone. Tapping into the popular enthusiasm, we launched a major reconstruction to diversify facilities to better serve visitors."
The swimming pools for athletic competition remain, while 80 percent of the Water Cube's total floor space has been converted into a water park.
It costs 200 yuan to enter the amusement park.
A visitor said, "This water amusement park must be great fun. Also, when I think of the fact that many champions were made inside this building inspires me."
A visitor said, "This structure is funded by the public, and it should serve the needs of ordinary people. But now the ticket price is too high and the authorities should give that some thought."
Just across from the amusement park is a swimming pool open to the public for 50 yuan per day. While most people say they are thrilled at the idea of swimming in center close to where world champions swam, they admit that coming here is largely symbolic. Because when we work out, we usually choose swimming pools close to our homes.
Current Affairs Commentator Gregory Yingnien Tsang said, "The new facilities are very amusing. however, you can never depend on this approach to collect money and make money. You should highlight the necessity to pay attention to people's general health and doing exercise. It's a good start but will have to be under constant review. For example, supervision on how the collected entrance fees are used."
Gregory also believes the re-making of all the Olympic venues should bear one purpose in mind--to encourage more Chinese people to work out and to take up a sport.
He thinks the real strength of China does not lie in the number of gold medals the country wins in Olympic Games, but the improvement in the health and fitness of its people.
Editor:Zhang Ning |Source: CNTV