Watch Video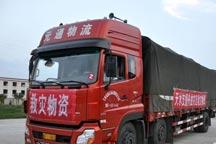 Play Video
Government departments and charity organizations have been rushing disaster relief supplies to Zhouqu County. Relief supplies are arriving in a stream.
Help is on the way to Zhouqu County.
The State Council has allocated 500 million yuan from the central budget to the province. The money will go to rescue and relief efforts, medical care, and reconstruction.
The ministries of Civil Affairs and Railways have jointly launched an emergency response system giving priority to transporting rescue and relief materials.
The Ministry of Civil Affairs is delivering 5,000 tents, and large numbers of quilted coats, folding beds, and sleeping bags.
Red Cross China has donated 320-thousand yuan worth of relief materials, including emergency rations, bottled water, and blankets. So far, Red Cross China and its Gansu branch have provided 700-thousand yuan in aid.
The Ministry of Health sent a group of experts to supervise medical and epidemic prevention work.
The All-China Federation of Labor has allocated 3 million yuan to assist affected workers.
The State Bureau of Surveying and Mapping has mobilized a drone to shoot high resolution aerial images, for a better grasp of the overall picture.
Related stories
Editor:Zhang Ning |Source: CNTV