Watch Video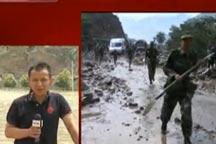 Play Video
Casualties have risen in landslide-hit Zhouqu County, in Northwest China's Gansu Province. Nearly 130 people have been confirmed dead. 117 others are injured, 29 seriously. Nearly 1,300 remain missing. Full Story>>
For more on the rescue efforts in Zhouqu, we're joined by CCTV reporter Feng Jinchao.
Q1: The PLA Lanzhou Military Area Command has sent more than 25 thousand soldiers to the landslide region. Can you update us on the rescue work in Zhouqu? And has electricity been restored?
Q2: What about the situation at the barrier lake? Are they getting the debris out?
Q3: Tell us more about the resettlement of the residents in Zhouqu County.
Editor:Zhang Ning |Source: CNTV