Watch Video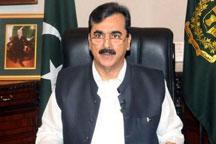 Play Video
14 million people have been affected by the devastating floods in northwestern Pakistan.
Flood waters are now coursing toward several southern provinces. With heavy rainfall still expected, the humanitarian crisis is growing.
Analysts believe the humanitarian needs in flood-devastated Pakistan are on a similar level as those following the country's 2005 earthquake, which affected more than 3 million people, and wrecked large areas.
According to the UN, the assistance provided has alleviated suffering, but relief operations need to be massively scaled up.
Shelter, plastic sheeting, and household goods are the most important gap. Stocks need to be urgently airlifted to the affected areas.
International aid is coming in, but still, more need to be done.
Yusuf Raza Gilani, Pakistani Prime Minister, said, "We cannot counter such huge devastation, we ask for the help of foreign countries, friends of Pakistan, and all those Pakistanis who are settled abroad. Pakistan needs you in these bad times."
People who have lost everything, their homes, their properties, their loved ones, lie hopeless and helpless. They have to rebuild their lives from scratch.
Basheera, a mother of five, has lost her two youngest children. The remaining three are suffering from diarrhea. For her, life has no meaning.
Basheera, Flood Victim, said, "My life is finished, my children are dead, my remaining children are sick. I don't know what to do. Please help me. My children need food, or they will die."
With more rains expected in the days to come, the UN believes that the water levels are going very high, and the risk of serious flooding is increasing rapidly, once again.
At least 1.4 million acres of agricultural land was destroyed in Punjab alone and, despite the threat of further deluges, many people have refused to leave their land, crops, and homes.
According to rescue agencies, the top most needs of the affected people are clean drinking water, cooked food, medication, bedding, and mother and child care facilities.
"The floods have overwhelmed vast agricultural areas, and the UN has warned there will be long-term effects on Pakistan's food supply. With 14 million people affected so far, officials say the floods are the biggest disaster in the country's history, and the future seems quite grim for the most impoverished people whose lives depend on agriculture. Danial Khan, CCTV, Islamabad."
Related stories
Editor:Zhang Pengfei |Source: CNTV.CN