Watch Video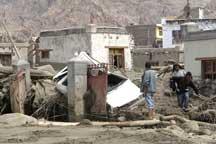 Play Video
Devastating flash floods in India-controlled Kashmir have wreaked havoc in the Leh Region and adjoining areas.
More than 130 people are dead, and nearly 500 others remain missing. Rescue work is underway, but intermittent rainstorms are making matters worse.
Nearly two days after flash floods struck Leh in India, rescue workers continue to remain struggle to reach affected areas, many of which have been completely cut off.
Roads and bridges connecting far-flung areas have either been completely washed away or severely damaged. The death toll is expected to rise as bodies are still being pulled out of the rubble. The heavy carpet of mud and slush that has settled over buildings were being removed during the day.
The magnitude of this natural calamity is still far from being assessed.
Omar Abdullah, Chief Minister, India-Controlled Kashmir, said, "There is no doubt that the cloud burst has wrecked havoc. People have been lost and the city and adjoining areas have been devastated."
The region remained cut off by road for the second day on Saturday. Relief and rescue teams have been flown by the Indian Air Force and Army.
The airstrip of Leh Airport was cleared after which six IAF planes landed with 29 tons of relief material. The planes also carried disaster management team, medical supplies, and doctors.
Omar Abdullah, Chief Minister, India-Controlled Kashmir, said, "We are trying to take people out of the debris. Police forces, local administration, army, air force, and even tourists are playing a part in the rescue work. We are only hoping that the rescue work doesn't get further hampered by rains."
Leh Region has been cut off for the last two days. Telecommunication lines have been cut-off. Roads are blocked and this has made rescue operations difficult.
Local authorities fear the death toll will go up drastically as rescue workers are digging through the debris still.
Related stories
Editor:Zhang Pengfei |Source: CNTV.CN