Watch Video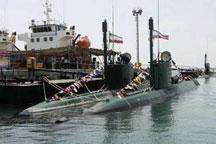 Play Video
Four new Iranian-built submarines have been added to the country's naval fleet. State media reports the news subs are part of Tehran's efforts to upgrade its defence capabilities.
Iranian Defence Minister General Ahmad Vahidi and Navy chief Admiral Habibollah Sayyari attended the delivery ceremony. As Iran faces increasing international pressure over its nuclear programme, Admiral Sayyari says the Iranian navy will upgraded in an all round way.
Admiral Habibollah Sayyari, Iranian Navy Chief, said, "We hope we can build other military equipment in various classes as fast and proper as possible and step up our capabilities on the surface, sub-surface and in the air, just like we have done so far. We hope everyone will realize that despite sanctions, our country is capable of producing what it needs by itself and we have experienced it before."