Watch Video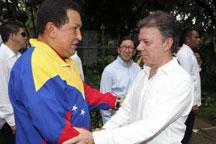 Play Video
Colombia's new President, Juan Manuel Santos, has met his Venezuelan counterpart, Hugo Chavez. Their meeting aims to restore relations that broke down over accusations that Venezuela provided sheltering to Colombian guerrillas.
The newly elected Colombian President is seeking to repair relations with Chavez, who cut off diplomatic ties in a dispute with Colombia's former president.
Santos says he is optimistic the meeting with Chavez will produce positive and lasting results.
Juan Manuel Santos, Colombia's new President, said, "We will use all means in order to normalize relations and so that they improve every day. We came to the meeting with optimism but without too high expectations because I believe that after the meeting, that is when we will be able to see its true results. I hope with all my heart that it goes well."
Chavez also says he shared the positive approach.
Hugo Chavez, Venezuelan President, said, "Because we come with the will, heart and love to begin patiently to reconstruct that which has crumbled. But we are counting on enough resources to build new, good relations between Colombia and Venezuela."
Last week, Santos took over from outgoing Colombian leader Alvaro Uribe, who accused Venezuela of supporting Colombian guerrillas and allowing them to hide on its soil.
The accusation caused Chavez to break ties with Colombia last month. There has been aggressive talk from both sides in recent weeks.
But as soon as Santos was sworn in, the two countries began to move toward restoring relations, and recovering their 7-billion-US-dollar bilateral trade.
Editor:Zhang Pengfei |Source: CNTV.CN