Watch Video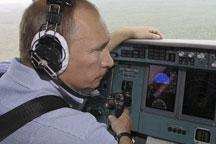 Play Video
Prime Minister Vladimir Putin flew in a plane being used in a water drop mission over wildfires southwest of Moscow.
Putin wearing headphones in the cockpit, pressed buttons on a handheld control panel. A group of 48 Bulgarian fire fighters is also helping fight the blazes after arriving in a District near Moscow.
Russia's deadly summer heatwave could wipe, up to 14 billion US dollars, off economic growth.
Wildfires continue to rage in several provinces, and forecasters say the sweltering weather won't abate this week.
Experts estimate the worst heatwave on record could knock one percentage point off the country's GDP, weakening the country's economic recovery from the global financial crisis.
Related stories