Watch Video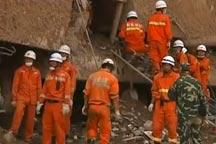 Play Video
Residents in Zhouqu County are sparing no effort in the rescue and relief work despite the pain of losing families and homes in the mudslide.
It was the last chance Feng Qinglin heard his child's voice -- and it will haunt him for life.
Feng Qinglin, policeman of Zhouqu Police Station, said, "I asked my wife what my child's last words were. She said it was "call dad...hurry...call my dad, but the mudslide struck so quickly, they weren't able to call me."
Feng was on duty at the police station as the waves of sludge and mud uprooted his house across town. The first four floors of the six-floor were destroyed leaving just the top two standing.
Zhao Pingsheng, head of Zhouqu Police Station, said, "Feng's wife and child were on the ground floor, when the mudslide pushed them to the window. When the rescuers reached them the child had been suffocated."
For the whole night, Feng dug with simple tools through the rubble where the police station used to be. He paid a quick visit to his wife at hospital before returning to work.
Zhao Pingsheng said, "The sludge and water poured into our station. The water level in the building soon rose to about one meter. My colleagues and I rushed to retrieve the files in no time. The records are very important."
The police station lost two officers in the disaster and 12 are still missing. Despite the hurt, all the survivors like Feng are working at the rescue sites. They say every life saved is like saving a member of their own family.
Editor:Zhang Ning |Source: CNTV