Watch Video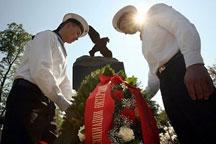 Play Video
Thursday marked the 10th anniversary of the sinking of the Kursk nuclear powered submarine in Russia. 10 years ago, 118 sailors, the vessel's entire crew, perished at the bottom of the Barents Sea.
A commemoration ceremony was held in St. Petersburg where most of the crew members were buried.
Family members, friends and Naval officers attended a prayer service at Nikolsky maritime cathedral, and went to the cemetery to mourn those lost.
The Kursk, one of Russia's most advanced submarines, suffered two powerful explosions and sank during naval maneuvers in the Barents Sea on August 12th, 2000.
Oleg Dovganyuk, First Rank Captain, said, "Although so many years have passed, every year we gather here, at this cemetery. Shipmates, family and friends, we come here to pay respect to those wonderful people."
After the Kursk disaster, Russia's naval command was severely criticized when it became apparent that the navy did not possess the modern rescue equipment needed to deal with submarine accidents.
Family members of the Kursk's crew held another prayer service at the cemetery and laid flowers at the tombs of their loved ones.
Irina Belozorova, Widow of Krusk Crew Member, said, "I always think of him. He is always with me. I mention him every morning in my prayers. I go to the church to pray for him. It was very hard for me to live without him, and it is still hard."
Meanwhile, Russian navy ships were flying flags at half-mast, and memorial ceremonies were held in other parts of the nation and abroad.