Watch Video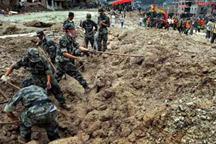 Play Video
Figures Updated in Gansu Province:
1,144 killed in Zhouqu County
6 killed, 8 missing in Chengxian County
2 killed, 6 injured in Lixian County
1 killed, 1 missing in Xihe County
Friday is the sixth day since the mudslides hit Zhouqu county in Northwest China's Gansu province. The death toll in the county has now risen to 1,144.
Overnight downpours triggered new floods and mudslides to the already devastated county and left three people missing. The local meteorological center has forecast 40 to 60 millimeters of rainfall for Ganan Tibetan Autonomous Prefecture over the next 24 hours, posing dangers to survivors and rescuers.
Meanwhile, flash floods have ravaged three other counties in neighboring Longnan City. Nine people were killed and nine others remain missing in Chengxian, Lixian and Xihe counties.
Editor:Zhang Jingya |Source: CNTV.cn