Watch Video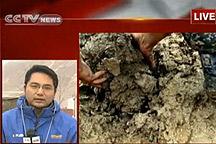 Play Video
Death Toll Updated in Gansu Province:
1,144 killed in Zhouqu County
6 killed, 8 missing in Chengxian County
2 killed, 6 injured in Lixian County
1 killed, 1 missing in Xihe County
For more on the situation in Zhouqu county, we are now joined by our reporter Yin Xiang, who is at the site.
Hello, Yin Xiang. Heavy downpours have been forecast for the next 24 hours. And it is expected they will bring 40 to 60 millimeters of rain, and some areas could even get up to 90 millimeters. What difficulties are the rescuers facing due to the rainfall?
Editor:Zhang Jingya |Source: CNTV.cn