Watch Video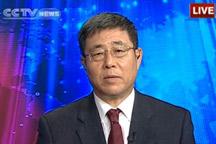 Play Video
Death Toll Updated in Gansu Province:
1,144 killed in Zhouqu County
6 killed, 8 missing in Chengxian County
2 killed, 6 injured in Lixian County
1 killed, 1 missing in Xihe County
For more insight on the reconstruction in Zhouqu county of Gannan Tibetan Autonomous Prefecture, we are now joined by our current affairs commentator, Mr Hua Shiping, Visiting Fellow from Peking University.
Difficulties for Zhouqu reconstruction
1: Hello, Mr Hua. Reconstruction has been a major topic after the massive landslide in Zhouqu county. What difficulties are being faced this time compared with the reconstruction of Wenchun and Yushu earthquakes? Some experts say it is unlikely to rebuild at the previous site because most parts of the county have been buried. What do you think of this news?
Measures to speed up reconstruction
2: The Chinese government has pledged to complete reconstruction by the end of June next year. What measures should the authorities take to speed the reconstruction?
Related stories
Editor:Zhang Jingya |Source: CNTV.cn