Watch Video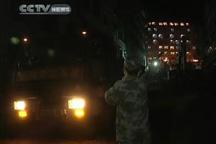 Play Video
Daytime in Zhouqu County is when road clearing speeds up. But you may wonder what the scene is like when night falls. Laurie Lew takes a look at the relocation sites at night and the non-stop relief efforts.
For most landslides survivors, this is a silent night.
Two families live in this tent. Ms. Qin is over seventy years old. When the devastating mudslides roared through the county, her son was swept away. For the other family, things faired much better. Everyone escaped the danger despite the collapse of eight houses.
Mudslide Survivor, Zhouqu Conty, Gansu Province, said, "We moved to the tent the second day after the mudslide. I felt very relieved when the soldiers came to help. It's the sixth day now, and I am used to living here."
Outside the tent, it is a different scene.
Volunteers are busy sending out relief materials such as instant noodles. For them, it's another sleepless night.
Volunteer, Zhouqu Conty, Gansu Province, said, "If we don't give the food to residents, they will have nothing to eat. So we hardly have time to rest. We are proud of ourselves because we can at least do something for them."
Far away on the road, rescue operations are still underway.
Soldiers are struggling to widen the road so that more traffic can go through and more relief materials can be brought in.
The main obstacle for the rescue operation is the narrow road. Most heavy machines cannot pass through. To ensure efficiency, large groups are changed into smaller ones and work separately.
Hu Zhengqiang, Lanzhou Military Group, said, "We are making every effort to restore order in the city. If the debris is cleared, the affected residents will feel much better."
Now, landslide survivors at least have a warm and dry place to lay their heads.Meanwhile, soldiers are working around the clock, preparing the way for permanent homes that will stay high and dry.
Editor:Zhang Pengfei |Source: CNTV.CN