Watch Video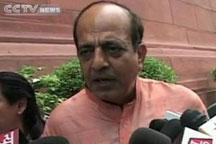 Play Video
Indian health officials have voiced their suspicion and anger over claims that a deadly gene dubbed the superbug originated in their country.
A medical study published in the Lancet Infectious Diseases journal found that the New Delhi metallo-beta-lactamase, or NDM-1, alters bacteria, making them resistant to nearly all known antibiotics.
Dinesh Trivedi, India Federal Jr. Minister for Health, said, "This is a global phenomenon, this is not India-centric at all, I can tell you this with all the responsibility under my command and obviously we have to find out if there is some kind of ulterior motives of some pharmaceutical industries as well."
Outside the Indian Parliament, Health Minister Ghulam Nabi Azad said "There is something dubious in the whole issue." The superbug has been found in patients in South Asia and Britain and could be attributed to medical tourism in India. But some rubbished the report, calling it propaganda to discourage the country's booming medical tourism industry.
Superbug case reports make headlines
The superbug, a gene called NDM-1, is making headlines around the world. Many cases have been reported in India, Britain, Canada, and the US, with scientists saying there are almost no drugs to treat it...<Full story>
Editor:Zhang Pengfei |Source: CNTV.CN