Watch Video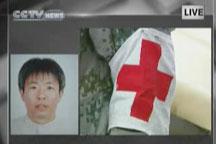 Play Video
For more on the relief work in Zhouqu county, we're joined on the line by the Deputy Director of the Relief and Health Department of the Red Cross Society of China, Yang Xusheng.
Q1: Hello Mr. Yang, the Red Cross Society of China has been engaged in the rescue and relief operation in Zhouqu since immediately after the disaster struck. Please give us an overview of your mission.
Q2: The relief operation is continuing in Zhouqu. What kind of help is needed by the victims?
Editor:Zheng Limin |Source: CNTV