Watch Video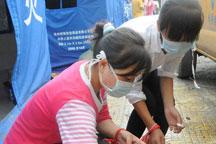 Play Video
These days, Zhouqu county has seen a volunteer relief team made up completely of women. They can be seen every day, carrying their baskets, struggling to bring the streets back to life.
This is a special volunteer team that consists of over 20 women. Every morning, they begin their work on the streets of Zhouqu county. Their mission is to collect the tons of garbage and remove it from the county.
These garbage-collectors are all residents from Suotou village, not far from the western side of Zhouqu county. When the devastating mudslide hit Zhouqu county, Suotou was lucky enough to escape the destruction. The day after the mudslide, these female villagers teamed up and arrived in Zhouqu county to help clean the streets.
With baskets full of trash, these women walk over a kilometer to remove the refuse from the county. Each member makes at least 10 of these trips a day.
The average age of these women is 40. Although they were reluctant to speak much to our reporters, they did say that their work in the county would continue until the people in Zhouqu can return to their normal lives.
Editor:Zheng Limin |Source: CNTV