Watch Video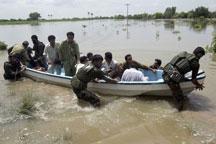 Play Video
In Pakistan, new torrents of flood water have inundated more towns and villages, adding to the country's misery. The situation for millions of homeless people is becoming more desperate.
Flood surges coursed down the Indus River and other waterways in Pakistan's southern Sindh province, sweeping through hundreds of villages.
In the city of Jacobabad, the army continued using helicopters to rescue people stranded by the rising water.
Mohammad Yousuf, Displaced Local, said, "The people who were living here left the area due to the floodwater. People are very scared floodwater would come here. The whole city is empty."
In western Punjab province, the army used boats to rescue residents. Soldiers also distributed small packages of aid to needy survivors.
Saeed Ullah Ditta, Rescued Villager, said, "We have been trapped by the flood for the last six days. Today the army rescued us by boat and we are going to Multan."
The United Nations warns the rate of sickness continues to increase among survivors.
Cholera, which can spread rapidly after floods, has been detected in the country's northwest, where the floods first hit more than two weeks ago.
Local charities and international aid agencies are struggling to provide hundreds of thousands of displaced people with food, water, shelter and medical treatment.
Editor:Zhang Pengfei |Source: CNTV.CN