Watch Video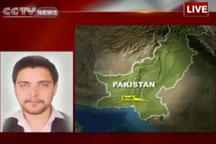 Play Video
For more on the floods in Pakistan, we are joined by our CCTV reporter, Danial Khan, who is in southern Pakistan's Sindh province. Hello, Danial.
Q1: Storms are continuing to hit Pakistan, and the United Nations has warned the rate of sickness continues to grow among the survivors. What measures are local authorities taking to prevent an epidemic?
Q2: The UN chief, Ban Ki-Moon, has visited Pakistan, and he is calling on the world to speed up the provision of aid. Can you tell us more about that?
Thank you, Danial. That's our reporter Danial Khan in Sindh, Pakistan.
New floods inundate towns in Pakistan
In Pakistan, new torrents of flood water have inundated more towns and villages, adding to the country's misery...<Full story>
Editor:Zhang Pengfei |Source: CNTV.CN