Watch Video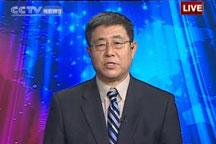 Play Video
For more insight into the issue, we're joined by our current affairs commentator, Professor Hua Shiping, a visiting fellow at Peking University.
Q1: People around the world are marking the 65th anniversary of the end of World War Two, with Japan's surrender to the Allied Forces. But through the years, Japan consistently denied its crimes against China and other Asian countries.
They've even distorted history in their textbooks, leaving many young Japanese ignorant. In contrast, another Axis power, Germany has done a better job. What responsibility do governments and individuals have to avoid a repeat of history?
Japanese PM apologizes for agression during WW2
Japanese Prime Minister Naoto Kan has apologized to Asian countries for his country's aggression during World War two...<Full story>
Editor:Zhang Pengfei |Source: CNTV.CN