Watch Video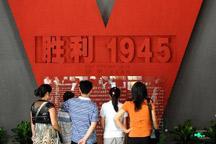 Play Video
Sunday marked the 65th anniversary of China's victory in the War of Resistance Against Japanese Aggression and Japan's unconditional surrender.
In east China's Nanjing City, more than 300 Chinese people and Japanese pacifists held a memorial ceremony at the Memorial Hall of the Victims of the Nanjing Massacre by Japanese Invaders.
It was attended by Japanese pacifists, relatives of the Nanjing Massacre victims and seven delegates from Taiwan. China-Japan Friendship delegations from Kobe, Nagasaki and Osaka held a banner saying, "Remembrance of the past is the guide for the future."
Japanese troops occupied Nanjing on December the 13th, 1937, and launched a six-week massacre. Chinese records show more than 300,000 people, including unarmed soldiers and civilians, were killed.
Visitors view the exhibition "Victory 1945" at the Memorial
Hall of the Victims in Najing Massacre by Japanese Invaders
in Nanjing, capital of east China's Jiangsu Province, Aug.
15, 2010, to commemorate the 65th anniversary of China's
victory in the "War of Resistance Against Japanese
Aggression". (Xinhua/Sun Can)