Watch Video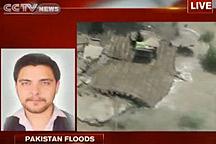 Play Video
Updates: Pakistan's flood victims fight to survive
Pakistani authorities have warned the country's flood disaster could get worse over the coming week with more rain forecast. It comes as victims struggle to survive. Many have no food, clean drinking water or shelter. Full Story>>
For more on the floods in Pakistan, we can cross live to our CCTV reporter Danial Khan, who is in southern Sindh province. Hello, Danial.
Disease situation in flooded area
1, We have heard that 39 people have died from diarrhea in the flooding and tens of thousands of others may have been affected. Can you tell us what the situation is regarding disease control and epidemic prevention in the flooded areas? What steps are local authorities taking to prevent the disease from spreading?
Steps to prevent further disaster
2, What is the weather forecast for the flooded area? And what measures are being taken to prevent a repeat of the disaster?
Thank you, Danial. That's our reporter Danial Khan in Sindh, Pakistan.
More CCTV Reporters
Editor:Zhang Jingya |Source: CNTV.cn