Watch Video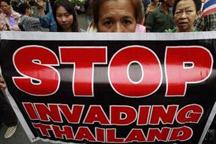 Play Video
Thailand's parliament is expected to discuss on Tuesday whether to restart bilateral talks with Cambodia about a territorial dispute involving a temple on their shared border.
Preah Vihear was recognized as Cambodian turf by the International Court of Justice in 1962, and awarded UNESCO World Heritage Status in 2008, but Thailand claims ownership of the land surrounding the site.
The geographic demarcation between Cambodia and Thailand.
But this is a border in dispute. Thai soldiers on high alert standing guard over an area that has been the cause of tension for more than a century. Clashes in the last two years have killed and wounded soldiers on both sides. And in recent weeks a war of words.
Thailand's Prime Minister saying force might be used to resolve the territorial issue, his counterpart in Phnom Penh calling for UN intervention. On the ground however, the Thai military were keen to emphasize that the situation remained under control.
Colonel Thanes Wongchaoum, Thai Army Suranaree Command, said, "The relationship is stable enough for us to patrol and meet at various points. As you can see we're both dug in on each side of the hill."
The Colonel pointed out the area in dispute 4.6 square kilometers between the Thai troops and the temple that sits above them. Land that Thailand says it will not give up. On the other side the Cambodians are well dug in. Heavy machine guns and other artillery are well placed in bunkers pointing at the Thais.
Despite hopes from Thai military that the opposing troops might withdraw, we saw considerable number of soldiers in the immediate area, and many camps in the countryside around. The temple at the heart of the dispute is still open to visitors. Since this became a UNESCO heritage site, access has not been easy and the ruins remain dangerous, the surrounding area is still littered with mines.
In a Thai village below the temple site, the only traffic passing through is military. Where once tourists thronged the market place, Ms. Pranee is now just trying to stop the dust building up. And although she believes the temple is in Thai territory, she says the most important thing is to get the situation back to normal.
Ms. Pranee, trader of Poomsarol Village, said, "Things have really gone downhill. I haven't had any business at all today. When I was up at the temple I could make more than 200 dollars a day."
But with the situation apparently spiraling out of control, there seems little chance that either side is going to back down ... And with nationalist sentiment roused on both sides of the divide, these thousand year old ruins seem destined to be caught in the middle.
Editor:Zhang Jingya |Source: CNTV.cn