Watch Video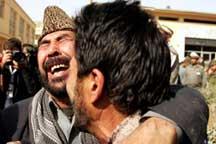 Play Video
On the 7th of October 2001, US-led military forces launched large-scale attacks on Afghanistan after the then ruling Taliban refused to hand over al-Qaida leader Osama bin Laden.
He was the mastermind behind the September 11 terrorist attacks. Ten years on, and with the Taliban forced from power, let's look at how the war has brought tremendous change to Afghan society and its people.
Even though they had no idea, life for ordinary Afghans was about to change in the blink of an eye. (shot: twin towers being hit on Sep 11, 2001)
On the 7th of October 2001, the US launched "Operation Enduring Freedom" in Afghanistan. Two months later, the Taliban abandoned its last stronghold of Kandahar. At the end of 2001, Hamid Karzai was sworn in as head of a 30-member interim government. Three years later, Karzai's is now the war-torn country's President.
But, a new president and functional parliament doesn't equal social security and a country's prosperity.
In 2003, the Afghan government began to disarm local forces with help from the UN and other Western countries. By 2006, more than 2000 illegal armed forces were still at large. Some of them even out-equipped government troops. What's worse,the conflict between anti-government troops and pro-government forces, have caused a large civilian death toll.
The UN recorded more than one-thousand civilian deaths in the first six months of 2009. That was an increase of almost 25 percent compared to the same period in 2008.
The deteriorating security situation is hampering Afghanistan's domestic economy. Some people have lost their jobs and reduced to poverty. The Afghan government's statistics show the current unemployment rate stands at 33%.
However, there is some good news. In recent years, beauty parlors, female music bands, even female Taekwondo teams have emerged in Afghan society, bringing fresh choices to people 's life.
A fund of 45 million US dollars has been set-up to help the country's war widows. It provides them with vocational training and other support programs.
Editor:Zhang Pengfei |Source: CNTV.CN