Watch Video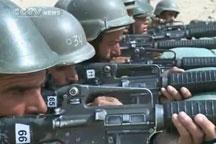 Play Video
The 90th anniversary of Afghanistan's Independence comes as the country's government announces it has achieved its army recruitment target two months ahead of schedule.
The government is advertising for young men to step forward to protect their country.
The Afghan national army recruitment has reached its peak by hiring 134,000 army officers out of the 400,000 soldiers planned recruitment.
This process will allow the international troops to pull out of Afghanistan by 2014 after 10 years of sever fight with Al-Qaeda and Taliban insurgents.
General Zahir Azimi, Afghan Defense Ministry, said, "Since the international community announced its troops withdrawal from Afghanistan by 2014, there has been an increase in the army recruit. The poverty and un-employment are reasons too."
Thousands of young Afghans reacted to national media campaign promoted the army recruitment. Some families fear their suns may never return home but they don't have any other choice to get an improved livelihood.
Abdullah Qotb, Afghan Army Recruit, said, "There are many Taliban fighters in my area which is mountainous and not stable. In the case of the insurgent's attacks, the ANA reached and helped us. Many people got killed and wounded; the ANA officers did their best in helping the wounded people , seeing that , my parents told me to join the army and help the government."
Azimullah, Afghan Army Recruit, said, "I feel healthy since I joined the army. I have stronger personality and clear mined about what I want to do. I am sure that I will take responsibility of my country's security after the foreign troop's withdrawal."
Tamara Aqrabawe, Kabul, Afghanistan, said, The Afghans who sent their beloved suns to the army hope the army recruit will enable the government to fight the insurgents at its won. They say the basic humanitarian services will never be delivered without peace and security.
The afghan army faces difficult challenges like the public confidence and the modern weapons purchase. The newly recruited officers have to attend strict educational and military training program, they say their enemy is clever and equipped enough to get them prepared for a tough fight.
Ahmad Shah, Army Recruit Instructor, said, "The weapon we have is not powerful and modern. Sometimes it doesn't shoot and it blocks the fire. It would be handy if we get the latest weapons. We even don't have RPGs. Our heavy weapons are P.K M40 and M249."
The Afghan government plans to allocate the newly recruited officers in southern and eastern Afghanistan. Part of the troops will be in charge of the Afghan- Pakistani boarders where Taliban's extended network operates on both sides of the boarders.
Related stories
Editor:Zhang Pengfei |Source: CNTV.CN