Watch Video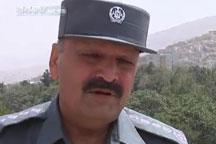 Play Video
Afghan President Hamid Karzai has ordered all private security companies close down within four months.
That's because the government wants to take responsibility for all security in the country from 2014. But, there's been a mixed reaction from locals on the street to international aid agencies.
It is scenes like these where civilians are killed by the aggressive actions of some security companies in Afghanistan.
Dozens of security contractors have to leave the country by the end of this year.
This is an order by President Hamid Karzai who accused the security contractors for killing innocent civilians.
The question is whose going to replace those security companies and how this process will impact security in Afghanistan.
Muneer Mangal, Deputy Minister, Afghan Interior Ministry, said, "Since the president order came through, the Afghan security officers who work in privet security firms will be ordered to join the army and police forces."
The Afghan citizens who learn every day about civilian casualties seem to support President Karzai's order. The increased number of Afghan National Army recruits provides some optimism for them.
Citizens want to see the Afghan forces taking charge of security instead of well paid security firms that consume big part of the donor's humanitarian support to Afghanistan.
Kabul Resident, said, "President Karzai has recently decided that security companies have to shut down. This is good decision, the Afghan national police and army will take care of the Afghans security. It would be much better if the government pay the money it spends on foreign security companies to the national army."
"The privet security companies shouldn't shut down; they protect our businessmen and goodies. If those companies shut down, who will take care of the traders? "
Tamara Aqrabawe, Kabul, Afghanistan, said, The discussion about the security contractor's presence seems like a fire ball in Kabul . The international aid agencies are concerned but the international security forces said President Karzai's decree will be respected.
Politicians say president Karzai wants to win the public support for his government but security is non-negotiable matter for the donors and aid agencies that are counted by thousands in Afghanistan.
Shariq Qayomi, Political Analyst, said, "this is a political game and warning for the foreigners who criticize the corruption in Afghanistan. Those companies became very powerful groups that threaten the government control over security, this is something no one could handle, so Karzai decided to shut it down."
The lead security companies seem not too worried about its business here. Other smaller companies are prepared to change business or join the Afghan forces. The civilian casualties and miss-use power are unforgettable issues here, all what the Afghans hope for is good treatment and respect by their own military troops.
Afghanistan bans private security companies
Today marks the 90st anniversary of the founding of Afghanistan. Officials in the war-torn country, are using the day to highlight the importance of continuing with reconstruction despite the setbacks. <Full story>
Editor:Zhang Pengfei |Source: CNTV.CN