Watch Video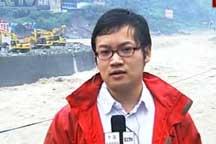 Play Video
Last night, heavy rains triggered another landslide in Yingxiu township, blocking the Minjiang river again, which was just cleared. Our reporter Shen Le has just driven from Mianzhu to Yingxiu and joins us now live on the phone.
Q1: Shen Le, it sounds like weather chaos there at the moment, What was the drive like between Mianzhu and Yingxiu?
Q2. What's the situation in Yingxiu where you are right now?
Q3. Has the weather havoc there caused any injuries to local residents?
Editor:Zhang Ning |Source: CNTV